Keto Blueberry Muffin recipe with Almond Flour
These Keto Blueberry Muffins with almond flour are the easiest, healthy blueberry muffins to start the day!
Bonus, they are also gluten-free and dairy-free and contain only 4 grams of net carbs per serving for a quick keto sweet breakfast or afternoon tea snack.
Is blueberry muffin keto?
No, a classic blueberry muffin recipe is not keto-friendly as it contains high-carb wheat flour, sugar, and milk. These three ingredients are high in sugar, carbs and spike your blood sugar level. It means it can keep you out of ketosis.
However, it's easy to make keto blueberry muffins at home.
How to make keto blueberry muffins with almond flour?
It's very easy to make keto-friendly blueberry muffins using any keto flour and keto sweeteners. There are two ways to make moist blueberry muffins keto recipes.
Either like in this recipe with almond flour or with coconut flour. For the latter, read my Keto Coconut Flour Blueberry Muffin Recipe.
All you need to make blueberry keto muffins with almond flour are:
Almond flour – make sure you use ultra-fine almond flour with a thin texture and golden color. Almond meal is coarse, dark in color, and gives a gritty texture to keto muffin recipes, so I don't recommend this option.
Erythritol – any brand of keto-friendly sweetener works well, including a blend of monk fruit and erythritol.
Large eggs – pop the eggs out of the fridge 1 hour before baking to make sure they are not cold.
Unsweetened almond milk – or any dairy-free milk of your choice like coconut milk or hemp milk. You can also use heavy cream, but the batter will be denser.
Baking powder or half the quantity to replace with baking soda.
Melted coconut oil – melt the coconut oil, measure the amount required by the recipe and cool down for few minutes before adding to the egg mixture. This prevents the oil from 'cooking' the eggs. You can also use melted butter if preferred. Butter is also keto-friendly.
Vanilla extract
Fresh blueberries – or frozen, both options work well. Note that frozen blueberries tend to color the batter slightly blue.
Combine wet ingredients to dry ingredients
First, in a large mixing bowl, combine the almond flour, baking powder, and erythritol. Set aside.
Are you new to Keto?
Receive my Keto Quick Start email series to learn all about the Keto diet and kick start your keto journey!
Struggling with Keto Baking?
Subscribe to my Keto Baking email series, receive 10 FREE Keto Baking Printables, and become a Keto Baking STAR!
In another bowl, beat eggs, melted coconut oil, and vanilla extra.
Stir the wet ingredients into the dry ingredients until it forms a thick muffin batter. Don't expect the batter to be as thin as regular muffins.
Almond flour blueberry muffins batter is always thicker, and it's what you want to make the best keto blueberry muffins.
Now fold in the blueberries into the batter until evenly distributed.
Preheat oven
Preheat oven to 350F (180C) and prepare a 12-holes muffin tray with muffin cups – you can use silicon or paper case. You can also grease the muffin tin holes with melted coconut oil or butter if you don't have paper liners.
Fill the 12-muffin pan up to 3/4 of their level with the keto blueberry muffin recipe.
Bake the muffins
Bake your muffins for 25-35 minutes. The baking time depends on the size of your muffins and the oven mode.
They bake faster on a convection mode than regular mode. Watch out for the color of your muffins. They should be golden brown, and a pick inserted in the center of the muffins should come out clean.
If the batter sticks to the pick, keep baking by 5-minute chunks until they are cooked through.
Cool down
Coll down the muffins on a cooling rack until they reach room temperature. It takes about 30 minutes.
Then store the muffins in an airtight container at room temperature for up to 4 days or freeze for later.
If you freeze your keto blueberry muffins, thaw the day before eating on a rack.
Keto blueberry muffin add-ons
You can use this keto blueberry muffin recipe to create a range of blueberry muffins flavor like:
Keto lemon blueberry muffins – add 1 teaspoon of lemon extract in the batter and 1-2 tablespoons of lemon zest.
Keto blueberry white chocolate chips muffins – stir in 1/3 cup of sugar-free white chocolate chips while you add the blueberries.
Keto blueberry nut muffins – stir into the batter 1/3 cup of chopped pecans or almonds.
How to prevent blueberries from sinking to the bottom?
This is one of the most common problems in baking blueberry muffins, keto or not. Sometimes, the blueberries sink to the bottom of the muffin cup.
To avoid that, use fresh blueberries, or roll the frozen blueberries into 1 tablespoon of coconut flour before adding them into the keto muffin batter.
The coconut flour is high in fiber and soaks the moisture around the blueberries, preventing them from sinking in the muffin tin.
A keto kid-friendly recipe
These keto blueberry muffins are perfect for kids. They are sugar-free, fulfilling, containing a lot of fiber and healthy fats from the nuts. They make a delicious snack for kids or lunchbox filling for school.
Can I use coconut flour?
No, you can't replace almond flour with the same amount of coconut flour in any keto recipes. If you want to make keto coconut flour blueberry muffins, follow my recipe here.
It has been tested to deliver moist and fluffy keto muffins using coconut flour only.
Can I use others berries in this recipe?
Sure, you can use this keto blueberry muffin recipe to create different berry muffins like keto raspberry muffins or keto boysenberry muffins.
Actually, using other berries is a way to reduce this recipe's carbs even more since blueberries are some of the highest-carb berries.
Check my keto-friendly fruit list if you need inspiration on other fruits you can use in these keto blueberry muffins.
When should I eat keto blueberry muffins?
These almond flour keto muffins contain only 4.2 grams of net carbs per serving, and they are totally safe to add any time of the day to your keto diet.
Plus, these are high in healthy fat and fiber, so one muffin is very fulfilling. It means they are a great replacement for eggs for your keto breakfast with a bulletproof coffee on the side.
You can also eat these blueberry muffins as a keto snack to fix a sweet craving.
More keto muffins recipes
Keto muffin recipes are amazing for breakfast or afternoon snacks when your sweet cravings hit the roof! Below I listed my favorite keto muffin recipe to help you fix your sweet tooth without blowing up your carb count.
Related Recipe
Related Recipe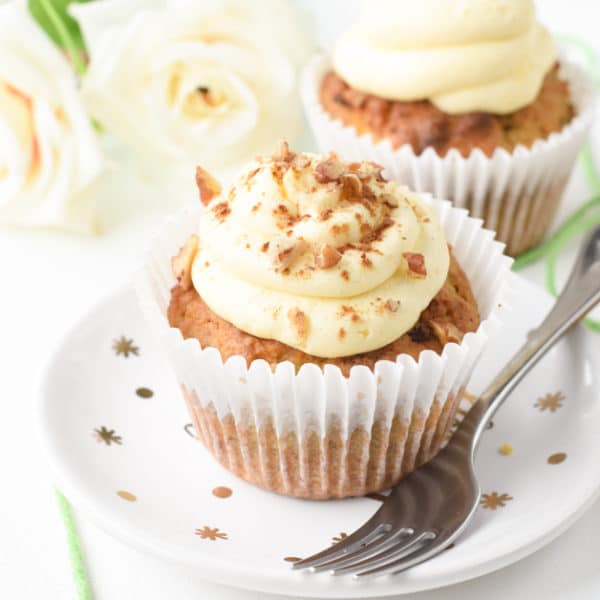 Related Recipe
Did you try these keto blueberry muffins with almond flour? Share a comment or review below. I love to connect with you and hear your feedback on my recipes.
XOXO Carine
Recipe Card
Keto Blueberry Muffins with Almond Flour
Easy keto blueberry muffins with almond flour and also gluten-free and dairy-free for a quick keto sweet breakfast or afternoon tea snack.
Author: Carine Claudepierre
12
regular size muffins or 6 jumbo muffins
New to Keto?
Join my Keto Quick Start Guide now to get all the best keto tips for beginners, straight to your inbox!
Preheat the oven to 350°F (180°C), fan-forced. 

Fill a 12-hole muffin tray with paper cases. Set aside.

In a large mixing bowl combine almond flour, erythritol, and baking powder. Set aside.

In another bowl, whisk the eggs, melted coconut oil, almond milk, and vanilla extract.

Stir the dry ingredients into the liquid ingredients until it forms a thick muffin batter.

Fold in the blueberries into the batter until evenly distributed.

Scoop the batter into each muffin paper case, filling to 3⁄4 full.

Sprinkle sliced almonds on top of each muffin before baking if you like.

Bake for

35 minutes

or until a skewer inserted into the center of a muffin comes out clean.

Transfer the muffins onto a wire rack to cool. 
Storage
Store in an airtight container for up to 3 days. Tip These muffins are even more delicious when eaten freshly made and while still warm.

Freeze in an airtight container for up to 3 months. Thaw at room temperature the day before eating.
12
regular size muffins or 6 jumbo muffins
Nutrition Facts
Keto Blueberry Muffins with Almond Flour
Amount Per Serving (1 muffin)
Calories 210.3
Calories from Fat 170
% Daily Value*
Fat 18.9g29%
Saturated Fat 6.4g40%
Trans Fat 0.1g
Cholesterol 46.5mg16%
Sodium 97.6mg4%
Potassium 26.9mg1%
Carbohydrates 7g2%
Fiber 2.8g12%
Sugar 2.1g2%
Protein 6.6g13%
Vitamin A 74.2IU1%
Vitamin B12 0.1µg2%
Vitamin C 1.2mg1%
Vitamin D 0.3µg2%
Calcium 104.2mg10%
Iron 1.2mg7%
Magnesium 2.4mg1%
Zinc 0.2mg1%
Net Carbs 4.2g
* Percent Daily Values are based on a 2000 calorie diet.